Coming to Grips with the Wants and Needs of Different Generations of Clients
Baby Boomers Are Not Like Younger Generations, …, But They Are Assimilating
Like His Warriors, Stephen Curry Redefining Greatness in Post-Michael Jordan Era
By Kevin Ding, NBA Senior Writer
Apr 14, 2016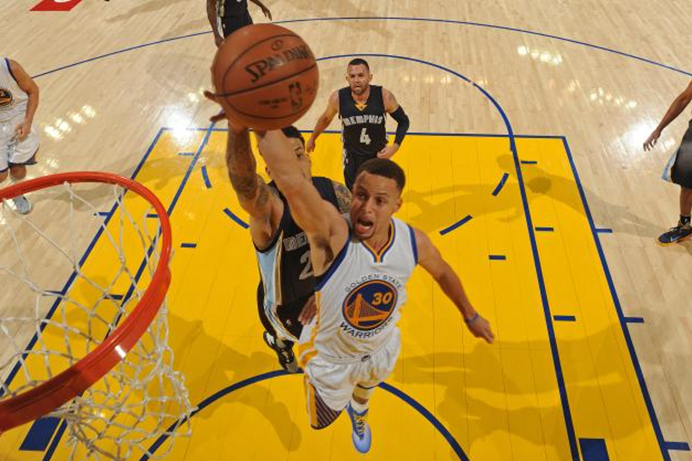 Garrett Ellwood/Getty Images
OAKLAND, Calif. — For weeks these Warriors have been compared to Michael Jordan's Bulls. Now that Stephen Curry and his Golden State teammates have their historic 73-9 record, it's time to consider whether the two—and in particular, the two leading men—are all that comparable.
"Totally different styles," Curry said.
That's a logical statement. Not only is the greatness packaged so differently, but Curry's refreshingly upbeat and graceful presentation is altogether unlike Jordan's doggedly direct, aggressive dominance.
It's not so important to consider whether Curry could ever be better than Jordan or if the 1995-96 Chicago Bulls would beat these Warriors. It's understanding how Jordan and Curry are such torchbearers of different generations.
Curry fits this era and this society perfectly—to such an extent that it should be sinking in that the Jordan rules would not be so widely adopted today. Even Jordan's second coming—Kobe Bryant—has become an outdated model built on heavy-handing, strong-arming and unyielding tenacity.
Jordan was a man's man. Unstoppable on the court, with tales of borderline cruel treatment of others off the court. Gambling. Cigars. Everything coming across with a Jordan air of superiority.
He could live that life because he was on our pedestal.
Just ask Steve Kerr, now the Warriors coach and the only player besides Jordan to play all 82 games for the Bulls in their 72-10 season.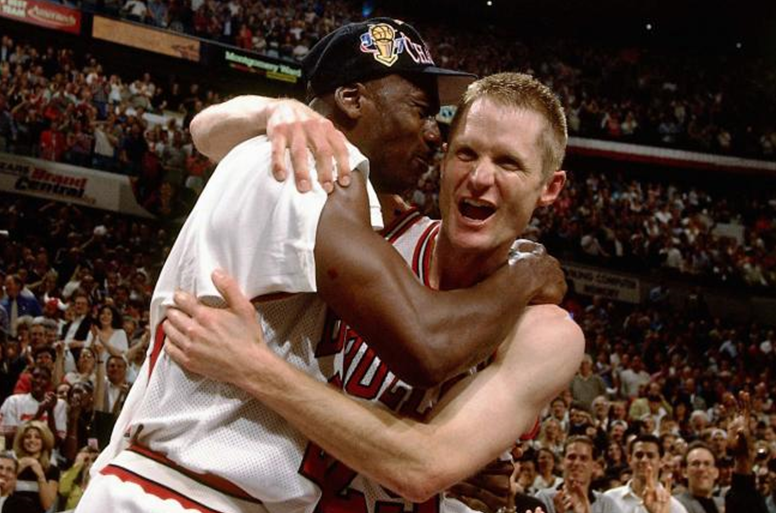 Nathaniel S. Butler/Getty Images
"Michael was beloved," Kerr said, "but nobody could actually be like Mike."
The sports-drink catchphrase was the ultimate advertising subterfuge: selling you on the vision, not the reality.
Kerr looks around today and sees a different look in fans' eyes, one conveying that they believe they can be Steph.
"Steph does not dominate through intimidation," Kerr said. "He dominates through skill…and he looks like he could be your little brother."
Bear in mind that one of Kerr's earlier claims to fame was being the guy who Jordan punched, another brick in the thickly constructed wall of Michael's legend.
Curry is certainly no bricklayer. He's more a juggler and one heck of a showman.
It was the same sensational act Wednesday night in Golden State's 125-104 victory over the Memphis Grizzlies for No. 73. This was no slaying; Curry was again the sniper who kills without needing to get blood on his hands.
He was eight three-pointers away from becoming the first to reach 400 in a single season—even though no one had reached 300 before Curry did it this season. He was determined not to go hunting threes right off the bat, but the game opened up for him, and the showman came out soon enough.
Fourteen of Curry's first 15 shots were threes. He deposited No. 400 early in the second half of what would be a 46-point game for him. And it happened in just the way that Grizzlies coach Dave Joerger had warned beforehand it might—Curry's three-pointers coming in rapid-fire succession to sink the shoulders and spirit of Memphis' guys.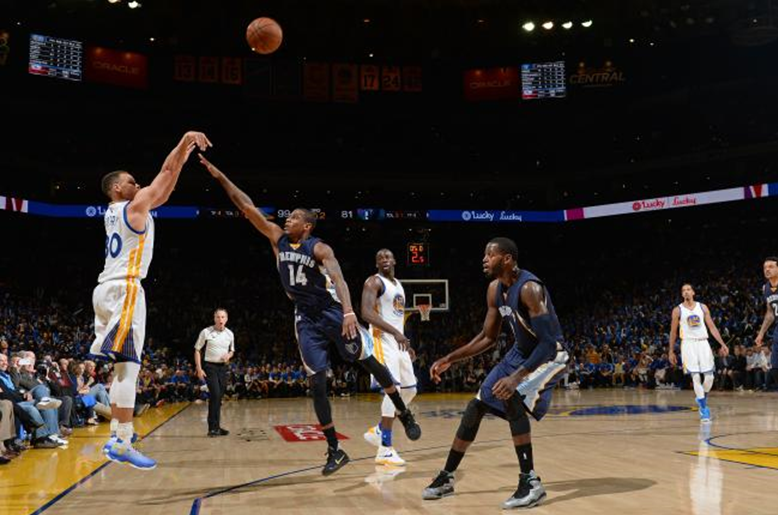 Garrett Ellwood/Getty Images
Not only is it just as devastating to opponents to be hit with Warriors combination punches as opposed to Jordan's solo wing strikes, it is undeniably more fun for us to watch. Change is often described as the evolution of the game because of the efficacy of spacing, but basketball's progression this way as entertainment was inevitable.
The home run in baseball. The long pass in football. It doesn't take a ton of market research to determine that sports fans would go wild for a zip-passing style capped by basketball's most extreme and high-suspense long balls—even if those shots look as physically imposing as gentle teardrops.
This generation is cool with it not looking tough.
And Curry and the Warriors have no hang-ups about going small, no matter how many former NBA players scoff at their style.
With 73 wins in a single season, they don't have to argue anymore. They can point to the spot above Jordan's Bulls in the record book.
"It means I'm part of the best team ever," Draymond Green said.
Kerr recalls the Bulls' record-breaking 70th victory in Milwaukee being "one of the highlights of my career." Back in the Oracle Arena locker room after this record-breaking 73rd, Kerr told his current players: "Never in a million years would I have felt that record would be broken. And I don't think this one will ever be broken."
As Kerr well knows, the underpinnings of this season and the Bulls' best season are similar: the dedication to the job, the commitment to the team, the dependence on a consistent star. And, as Kerr noted, hugely important is a competitive desire that manifests itself in an approach that says "lose one, get angry, win 10."
Curry is similar to Jordan in one way, though—mental power.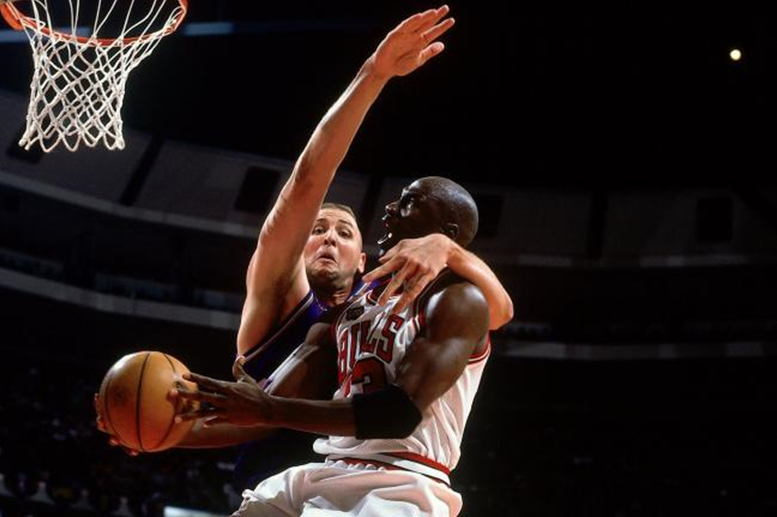 Nathaniel S. Butler/Getty Images
"I want to be great," Curry said late Wednesday night. "I want to be the best I can be."
Curry improved in so many ways from his MVP season, but none more important than this basic way: durability. Despite his reputation in his first few seasons for ankle weakness, he logged 79 games in an era when players are encouraged to rest rather than risk anything.
Referencing his more publicized numbers, Curry said, "They're numbers that I've worked for."
Curry believes in pushing himself. He said the biggest similarity between his team and the Bulls is "we love winning." He also will allow that the Warriors are like Jordan's Bulls in not getting rattled or wilting under the pressure.
And in today's society, men who are confident like Jordan will thrive no matter their appearances or what they hold most dear.
On Wednesday night there were plenty of in-your-face T-shirts—monstrous "73" digits in bold yellow on blue backgrounds—to be bought from street vendors on the catwalk connecting fans to the Bay Area Rapid Transit system. Inside the arena, though, the Warriors were giving away very different blue shirts.
"Not On Our Ground," the T-shirts read. It wasn't referencing some potential Memphis upset. The purpose was to promote the Oakland-based nonprofit, Not In Our Town, with which the Warriors have chosen to partner.
Not In Our Town is crusading against violence and bullying, and the Warriors want their fans to take a pledge against those things, too.
Curry has already taken a stand on the controversial issue of the law passed in his home state limiting transgender individuals to bathroom use matching their birth-certificate sex. He told the Bay Area News Group's Marcus Thompson: "While I don't know enough about the North Carolina law to comment more fully, no one should be discriminated against."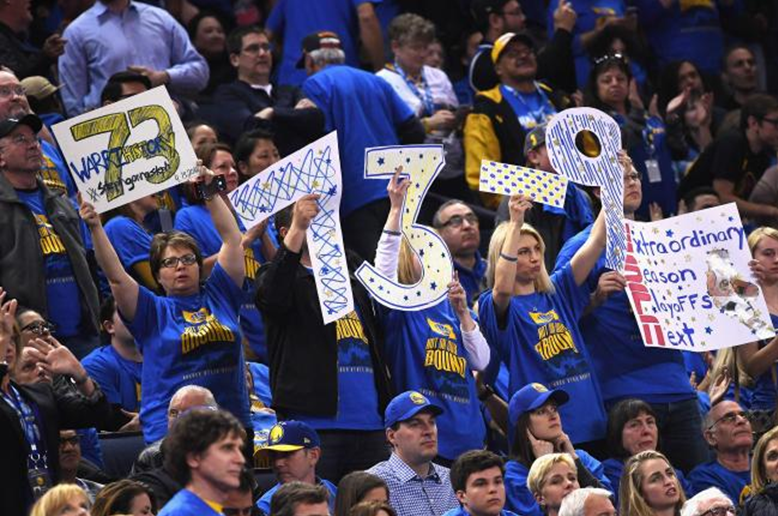 Thearon W. Henderson/Getty Images
It coincides with what Joerger was saying about Curry on Wednesday.
"It's his league," Joerger said. "The last two years, it's Steph Curry's league. Whether that's the three or the passing and ball-handling, the favorite part for me watching him is that I think he's got high character."
Joerger referred to how Curry provides a contrast to the "bad and ugly parts of our game" with taunts and barking and violence.
Society has opened its eyes to the idea that overly aggressive characteristics are no longer what make a man.
It's a different time and a different world now.
Curry and the Warriors are rock stars in sort of the same way Jordan and the Bulls were when they would roll into Charlotte to play Curry's father, Dell—and little Steph sensed it was "a totally different vibe" with the big, bad Bulls in town.
Jordan would be great in any era.
But times change. Styles change. And what we appreciate as greatness changes, too.
Kevin Ding is an NBA senior writer for Bleacher Report. Follow him on Twitter, @KevinDing.