Outback Steakhouse Alice Springs Chicken and Honey Mustard Recipe
http://www.sixsistersstuff.com/2011/12/outback-steakhouse-alice-springs.html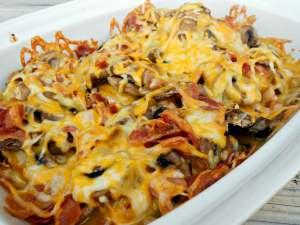 Ingredients:
4 boneless skinless chicken breasts, pounded to 1/2 inch thickness
seasoning salt
6 slices bacon, cut in half
1/4 cup mustard
1/3 cup honey
2 tablespoons mayo
1/2 tablespoon dried onion flakes
1 tablespoon cooking oil
1 cup sliced fresh mushrooms
2 cups shredded Colby/Jack cheese
Directions:
Sprinkle and rub the chicken breasts with seasoning salt. Cover and refrigerate for 30 minutes. Cook bacon in a large skillet until crisp.
In a small bowl, mix the mustard, honey, mayo and dried onion flakes.
Heat oil in a large skillet over medium heat. Place chicken in the skillet and saute for 3 to 5 minutes per side, or until browned. Move chicken to an 11×7 inch or 9×9 inch pan.
Apply the honey mustard to each breast, then layer with mushrooms, bacon, and shredded cheese.
Bake in a 350° oven for 20-25 minutes, or until cheese is melted and chicken is done.
Honey Mustard Sauce Recipe
Ingredients:
1/2 cup mayonnaise
2 tablespoons prepared yellow mustard
1 tablespoon Dijon mustard
1/4 cup honey
1 tablespoon dried onion flakes
1/2 tablespoon lemon juice
Directions:
Mix the mayo, yellow mustard, Dijon mustard, honey, onion flakes and lemon juice together in a bowl. Cover and chill in refrigerator overnight. Serve with chicken.