Industry insights to help boost millennial sales

6 tips to help you click with
millennial business owners
Chances are your client list includes quite a few businesses owned by millennials. Their population
has surpassed all other generations in the American workforce,1 and more and more are striking out on their own. They're an entrepreneurial group, fueled by confidence and a willingness to learn. According to research, almost two-thirds (67%) say their goals involve starting their own business.2 That means if millennial business owners aren't your clients today, they will be tomorrow or very soon.
And more than any other existing generation, they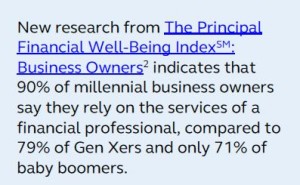 understand the value of bringing expert resources to
the table to help them keep their businesses growing.
They want to work with a financial professional.
This spells opportunity for you.
Whether you're looking to grow revenue within your existing book of business or reach out to new
prospects, you'll be well-served to be aware of the generational differences that drive business
owners' actions. These tips can help you better connect with millennial business owners.
1. Be authentic.
Steer clear of sales talk and promotional language. Be down-to-earth, positive and as
transparent as possible. And if humor comes naturally to you, don't hesitate to inject it into
your conversations with millennial clients.
2. Reach out through social media.
Have you joined LinkedIn and Twitter yet? Social media is where millennial business owners are,
and that makes it a valuable prospecting tool. It's like word-of-mouth – to the extreme.
Leverage blogs and other social media avenues to help you build trust, gather information and
connect.
3. Offer personalization and variety.
They've been referred to as the on-demand generation, so a one-size-fits-all approach isn't the
way to go when working with millennial business owners. They'll expect you to offer up a
variety of options they can customize to the needs of their employee population. That means
you'll want to be equipped with a mix of employer-paid and voluntary products, as they will play
an increasingly important role in the benefit packages offered by millennial business owners.
4. Cost savings and convenience drive unique benefit offerings.
When it comes to hiring and recruiting, millennial business owners get the significance of
employee benefits. According to the Principal® research, they are considerably more likely to
add to their benefit programs in the coming year – at a higher rate than older generations. Plus,
in addition to traditional benefits, keep in mind they also value non-traditional work perks, like
college loan repayment, free meals and snacks, laundry service and nap rooms, to name a few.
While some of these perks may seem "soft," they offer employees cost savings and
convenience.
5. Remember: technology isn't just a buzzword.
Have a tool box of tech solutions on tap because when it comes to employee benefits,
millennials are more likely to trust technology – they grew up with it – more than paper. They
expect to do business via multiple channels and on multiple devices. And they want to use tools
and offer solutions to their employees – like apps and online portals –that make benefits easier,
whether that's tech you've developed as a value-add or solutions you're offering through a
carrier.
6. Be prompt, concise and accessible.
Information and answers have always been available to millennials instantly online. Keep this in
mind when you respond to millennial business owners. Immediacy matters. Be quick and
concise, and don't expect millennials to wade through a lot of information to get to the
message you're delivering. That doesn't mean they don't want the deeper dive. Make the details
available so millennials can get to them at their own convenience.
Bottom line? Be aware of differences and get to know your clients so you can meet their specific
needs. Whether the business owners you work with are millennials or belong to other generations,
making a connection with them is largely a function of the relationship you've built and the time
you've taken to become familiar with their needs and objectives.
Principal Life Insurance Company, Des Moines, Iowa 50392-0002, www.principal.com
Principal, Principal and symbol design and Principal Financial Group are trademarks and
service marks of Principal Financial Services, Inc., a member of the Principal Financial Group.
For financial professional use only. Not for distribution to the public.
EC4594 | 04/2016 | © 2016 Principal Financial Services, Inc.