Dentist DIRECT… detailed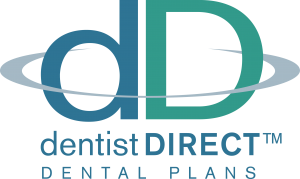 Dentist DIRECT plans include the following Value Added Benefits at no additional cost:
1.) All Dentist DIRECT plans include our Annual Max Carryover Benefit allowing our members to carrier over a portion of their annual maximum each year by obtaining one exam and staying below the threshold.
2.) All Dentist DIRECT Dental Plans include coverage for Dental Implants allowing our members to choose the treatment that is best for them (covers the surgical implant of the post and not just the build-up or crown).
3.) All Dentist DIRECT Dental Plans pay Specialists as Specialists, protecting our members from balance billing when accessing care from a Specialist ("Specialist paid same as General Dentist" is not the same).
Example: The national average billed charge for a complex molar Root Canal is $1,250. Using a conservative billed charge of $1,000 and $800 as the payable amount, below is a comparison.
| | | | | |
| --- | --- | --- | --- | --- |
| Specialist Claim | Payment Type | Payable Amount | Carrier Pays | Member Pays |
| Dentist DIRECT | Specialist | $800 (50%) | $400 (50%) | $400 (50%) |
| Local Competitors | General Dentist | $500 (50%) | $250 (31%) | $550 (69%)* |
| Local Competitors | General Dentist | $500 (50%) | $250 (25%) | $750 (75%)** |
*Best case scenario assuming the Specialist accepts Dentist DIRECT's negotiated payable amount of $800 as payment in full.
**By paying the Specialist as a General Dentist the member is further exposed to balance billing up to the billed charge amount (i.e. $1,000).
4.) All Dentist DIRECT Dental Plans provide our members 2 Cleanings & Exams which can be used anytime throughout the year ("1 every 6 months" is not the same).
5.) Dentist DIRECT is an "A Rated" Utah based company providing local personalized service to our customers. We are able to provide customized dental solutions for all size companies with access to 2,660+ local and 183,000+ national dental providers.
Benefits they can offer:
Dental (2+)
Vision (Partnered with Opticare)
All of these will need to be quoted by Dentist DIRECT. Please contact our staff for additional information.
Quote Request Forms:
For quote and rate information for Dentist DIRECT please contact our staff. Please note it can take 7 to 10 business days to receive quotes back.
Group Ancillary Quote Request Form
You do not have to use this census we will just need the information on the census. If you would like to see different benefits than initially quoted, Dentist DIRECT plans can be customized to fit your client's needs. Along with the quotes, we will attach a dental comparison spreadsheet for you to review with your client.
Employer-
Electronic Enrollment Spreadsheet- Dental_Vision
Employee-
Provider Search:
Please click the below link for an up-to-date provider search.
http://search.usdentistdirect.com/search2.php
Marketing/Sales Material:
5 Reasons Why to Select Dentist DIRECT
AOR (Agent of Record) Letter:
Below is a generic AOR to complete on letter head and fill in the parenthesis (i.e. [COMPANY NAME]= ABC Company). If you have any questions, please contact our staff. Please submit the completed AOR to mckenize@stonehill.net for processing.
The forms posted on this page are for 2015. If you are interested in any forms for previous years or any pre-ACA plan forms please contact our staff.