Cancer Risk Lowered by Exercise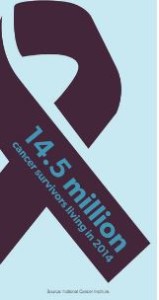 While "cancer" is a term that strikes fear and sadness in almost all who hear it, it no longer means the worst-case scenario when someone is diagnosed with cancer. Thanks to advances in treatments for all types of cancers, more and more Americans are surviving the dreaded diagnosis. In fact, nearly 14.5 million people have survived a cancer diagnosis, a number that is expected to reach 19 million by 2024*. And with survival rates steadily improving, we have many reasons to be hopeful for the future.
Even if you've never had cancer, it's likely you know someone who has. But survivors, as well as those recently diagnosed, still have to deal with the emotional and financial struggles associated with cancer treatment. That's why it's so important to continue raising awareness and providing support and resources to those coping with survivorship. The National Cancer Survivors Day (NCSD) Foundation website is a great place to start.
Get out and walk
A new study confirms that regular exercise can lower the risk of 13 types of cancer. An activity as simple as brisk walking can make a big difference for your physical health. So put on your step tracker, grab your spouse or a friend, and catch up on the day's events while walking through your neighborhood, around the office, or through the park.
*Source: National Cancer Institute
Doing your best to prepare for the worst
No one wants to think about being diagnosed with a critical illness like cancer. But if it does happen, the last thing someone needs is money wo
rries to add to their physical woes. LifeMap's Group Cancer Plus Critical Illness plan helps employees diagnosed with a critical event such as cancer, a stroke or ALS, though some pre-existing limitations may apply. To learn more about group Critical Illness, talk to your LifeMap Sales Representative.
The Individual Critical Illness Plus plan does all that plus it pays a benefit on emergency treatment for broken bones, torn tendons, cuts, burns or other covered accidental injuries requiring a trip to the hospital. With either plan, the benefits can be used to help pay for household bills, day care or unexpected expenses. To learn more about individual Critical Illness Plus or to enroll, visit LifeMapCo.com.
Expanded Product Portfolio and New RFP process for Express Groups – organizations with 2-9 employees
LifeMap continues to serve Express Groups in the 2-9 employee space in Oregon, Washington, Idaho, Utah, Montana, Wyoming, and Alaska. In addition to our current ancillary portfolio available to Express Groups, we have expanded our offerings to include supplemental coverage, such as Accident, Critical Illness, and voluntary lines for most offerings.
In addition to providing more coverage options to Express Groups, we have implemented a new process for requests for proposals (RFPs), allowing a 24-48 hour turnaround time during business days. "The latest enhancements to our Express Group offerings is huge for LifeMap," says Toby Fouch, Manager of Voluntary and Individual Sales. "While many carriers have stopped providing coverage for this underserved market, we are working to provide more options and to provide them in a timely manner to best meet the needs of small groups."
To help drive the Express Group initiative we've added a new Sales Specialist, Jan Klein, to work closely with producers on their sales needs. Jan has over 25 years in the health insurance industry in both account executive and sales specialist roles, serving employer clients all over Oregon. More recently, she spent the past few years helping connect candidates with employment opportunities through Goodwill Industries. "Even small employers want to help their employees with more benefit options. I'm looking forward to working with producers to help them in this part of their businesses," shares Jan.
We are taking RFPs for group coverage effective 7/1 and later. Simply email Express.Quote@LifeMapCo.com to get started.
Individual Short Term Medical changes reach Washington
In March we notified agents of a rate increase for Individual Short Term Medical in Oregon, Idaho, Utah and Montana due to rising medical costs. Effective July 1, the rate changes also affect our plan in the state of Washington.
To review the latest rates based on effective date, please visit LifeMapCo.com.
Please note: rates are subject to the effective date of the policy; however, paper applications sent to us postmarked by June 30th will still be accepted at the current rates. Applications postmarked July 1st and later will be subject to the new rates.
It is important to us that we continue to provide this valuable insurance option for people who are in transition between health plans, so we look forward to continuing to work with you and your clients. If you have any questions regarding the Short Term Medical plan, please contact our Customer Service team at 1(800) 756-4105 or email support@LifeMapCo.com.