18 Lessons From Football—By Advisors Who Played
By Miriam Lawrence
Horsesmouth Essential: Former football players turned Financial Adivsors (FA's) share ideas on becoming better advisors, setting and sticking to goals, and staying motivated in the face of 350-pound adversaries.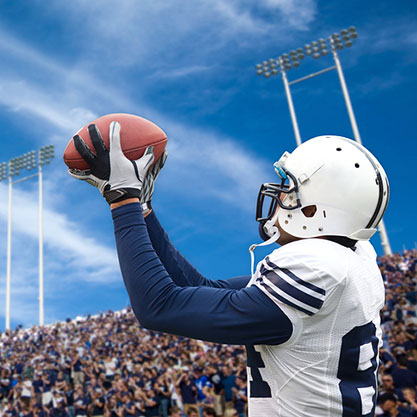 In honor of the Super Bowl, we tracked down 18 former football players and coaches—16 pros (including two Hall-of-Famers) and 2 collegiate athletes—who are now financial advisors. What principles and lessons have they taken away from their football careers that help them day-to-day in their current business? Here's what they told us.
1. Be prepared.
Howard Twilley, Merrill Lynch, Tulsa, OK

Photo: Miami Dolphins
Howard Twilley played wide receiver for the Miami Dolphins from 1966-76. A member of three Super Bowl teams, he scored the first touchdown in Super Bowl VII. The Dolphins went on to win, capping off the only perfect season in NFL history. Twilley became a financial consultant in 1994.
"Like in football, it's important in the advisory business to be prepared. Before we played the Redskins in Superbowl VII, I studied a bunch of film on Pat Fisher, the all-pro Redskins cornerback. I developed a special pattern and showed it to [Dolphins quarterback] Bob Griese; we ran that pattern at least 100 times in the two weeks before the Bowl. When it came up in the game, I was prepared. Griese called the play, it worked to perfection, and we scored in the first quarter. It wasn't the toughest catch ever made, but it was the one with the most people watching—and it was a pretty thrilling moment for me. In this business, there is very little you can control except asset allocation. To stay prepared, I try to get the broad perspective on opinions. I read a lot, and I try to stay focused on allocation and capital preservation."
2. Adjust and keep going—even in the face of failure.
Joe Washington, First Union Securities, Lutherville, MD

Photo: Washington Redskins
Running back Joe "Little Joe" Washington played for the San Diego Chargers, Baltimore Colts, Washington Redskins, and Atlanta Falcons before retiring in 1985. He spent many years as a marketing consultant and became a financial advisor in late 2000.
"Football taught me the importance of always being able to adjust. To a certain extent, things will be out of your control, so you want to make sure you have enough of a handle on things that you can make adjustments. You have to be able to recognize when the direction you're going in isn't right and be humble enough—and have enough confidence—to change direction. You also have to learn to get out there and keep playing despite failures. You can be having a great day carrying the football. Then it's fourth and one and you make a great cut, and suddenly you fumble in front of millions of people. You have to understand that it isn't the end of the world, even though it feels that way. You can lie there on the ground and close your eyes, or you can get back into the thick of things, go after it again, and hopefully get a different outcome the next time."
3. Dictate your own destiny.
William Vastis RBC Dominion Securities, Toronto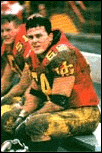 Photo: Bill Vastis
William Vastis is a former all-Canadian university football player who played defensive end for the University of Guelph in Ontario. In just five years as an investment advisor, he became one of his firm's top 30 producers.
"There are two metaphors from football that I use every day. First, as Aristotle said, 'Excellence is not an act, but a habit.' When you start, you have to take a lot of hits. The more you take, the more you improve. Everyone has some natural ability and special skill, but you've got to have a strategy and the discipline to follow it. Second, 'Tomorrow is not promised to anyone' (Walter Payne). Football taught me that if you really want to get something done, you have to do it yourself. You can't wait for things to happen to you. Someone can take it away from you if you sit back and wait. Take matters into your own hands, and you'll keep growing. You dictate your own destiny."
4. Keep your focus.
Willie Lanier, First Union Securities, Richmond, VA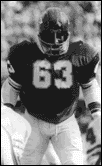 Photo:Hank Young, Kansas City Chiefs
Willie "Contact" Lanier, former linebacker for the Kansas City Chiefs, was inducted into the Pro Football Hall of Fame in 1986. Between 1968-75, Lanier was All-AFL or All-AFC every year but 1969. Miami fullback Larry Csonka once said of Lanier, "It's bad enough playing against a grizzly, but when he's a smart grizzly, you've got a problem." When we interviewed him, Lanier had been a financial advisor for 21 years.
"I was a business major at Morgan State, and I graduated in four years. I just happened to play football while I was there. That experience—the need to maintain high energy—programmed me to focus on positive outcomes. The reality is, you go into a pro season with 16 games to play. You have to continue to play and be energetic even if you lose four, five, or six games. Football helped me develop a belief in self and company and product, and to maintain that belief even while going through markets that go up, down, and sideways."
5. Be a marathoner, not a sprinter.
Mike Kolen, Prudential Securities, Birmingham, AL

Photo: Miami Dolphins
Mike "Captain Krunch" Kolen played linebacker for the Miami Dolphins from 1970-1977. He was a member of two Super Bowl Championship Dolphins teams, including the 1972 undefeated team (17-0). He became a financial advisor in 1996, prior to which he was an entrepreneur.
"One thing I learned in an eight-year football career is that life is not a sprint. It's a marathon. In business, just as in football, you'll run into roadblocks and challenges and hazards. You need to keep on keeping on. I have never been a quick starter; I was fortunate to play pro ball with the 40-yard dash time that I had. But I've learned that it's more important to finish strong than to start strong. Having played on that perfect-season team—the only perfect season in NFL history—you realize that if you prepare in advance, you can work through any and every situation. We all made our share of mistakes, but on the scoreboard we ended up with a perfect year. You are never handed perfection in life or in business. It's a matter of hanging tough and staying focused on your goals and objectives."
6. Have a game plan—but make it flexible.
Marty Domres, Deutsche Banc Alex. Brown, Baltimore, MD

Photo: Columbia University
Marty Domres was a star quarterback at Columbia University before going on to play for the San Diego Chargers, Baltimore Colts, San Francisco 49ers, and New York Jets. At the time of our interview, he had been a financial advisor for more than 20 years.
"Because I was a quarterback, I learned that putting together a game plan is key. In football, you have a general plan that includes basic plays; then you look at the attributes of a specific team's defense and try to identify a defensive strategy where you can create opportunities for yourself. A team may have certain weaknesses you can exploit. As advisors, we have to look both at the individual and at our business. We have a general process that we use, but then we tailor it specifically to each individual. It's about having a game plan not only for how clients want their assets managed, but also for how we service them."
7. Set realistic goals—daily, weekly, monthly, and yearly.
Doug Rogers, Diamond Springs, CA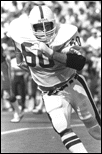 Photo: Stanford University
Doug Rogers played six years as a defensive lineman for the Atlanta Falcons, the New England Patriots, and the San Francisco 49ers. During his last two years in the NFL, he worked as a registered representative; after nine years as a broker, he became a wholesaler specializing in variable annuities.
"A lot of people fly by the seat of their pants; they don't set goals. I find it helps if you set realistic goals daily, weekly, monthly, and annually—and write them down. Give yourself little steps of success along the away. Athletes are energized and motivated by small steps. Coming to Stanford out of high school, my goal was to play in three All-Star games, to shine, and to get noticed by recruiters. I really worked hard my senior year to achieve that goal. I didn't sit down and say, "We're going to win the national championship." I just said that I wanted to have a great year and get invited to some All-Star games. I did, and I went from a 10th- to a 2nd-round draft pick. I find that now, my goals are reachable and attainable if I stay persistent and consistent on a daily basis."
8. Learn from your mistakes, then move on.
Gino Torretta, Prudential Securities, Miami, FL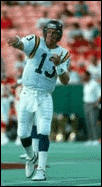 Photo: Rick Kolodziej, Minnesota Vikings
After winning the 1992 Heisman trophy while at the University of Miami, Gino Torretta played professionally for the Minnesota Vikings and the Seattle Seahawks. He became a financial advisor in 1998.
"The main thing I've learned in both football and this business, in addition to working hard, is that you need to have a very short memory. In football, you have to forget a bad pass or interception as soon as possible. In this business, if someone says "no" or you have a bad experience, you have to forget it and move on. You have to ask yourself, 'What can I learn from that mistake to help me with my next pass or my next client?' You learn more from your mistakes than from your successes."
9. Inspire others around you.
Brent Williams, Merrill Lynch, Quincy, MA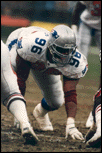 Photo: University of Toledo
Brent Williams was a defensive lineman with the New England Patriots and the Seattle Seahawks. He became a financial advisor in 1996.
"Early in my playing career, we were in a situation where we were behind—much like last year, which was a very challenging year to be in this business. I picked up a fumble and ran it in for a touchdown. That inspired the team, and we were able to come back and win the game. I look at my job right now in a similar way. My clients are feeling concerned. They're behind; they're not where they want to be. My job is to inspire them and make them feel better."
10. Take it step by step.
Art Belvin, Wealth Management Advisors, Houston, TX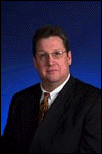 Photo: Art Belvin
Art Belvin was a strong safety who played as a free agent with the Dallas Cowboys and the New York Giants. He became a life insurance agent in 1983 and a financial planner in 1999. Art is a member of the Million Dollar Round Table.
"Football and financial planning are very different. In football, the timing is so fast. You have to react on keys as a strong safety. What is the offense doing? Maybe it's a sweep. Do I crash the gap? You have to read an offense, maybe five people, and make a split-second decision about where the play is going. If you react that way in the planning market today, you won't be successful. You have to slow down, take your time, really look at the client's needs, and be methodical. Not everything is fourth and one."
11. Make things happen—don't sit back and wait for change.
David Cullity, McDonald Investments, Colorado Springs, CO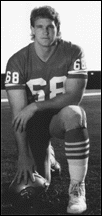 Photo: San Francisco 49ers
David Cullity spent six years in the NFL as an offensive lineman with the Cleveland Browns and the San Francisco 49ers. He started his career as a financial advisor in 1993.
"From high school on, my career was riddled with knee and shoulder injuries that always seemed to set me back. The setbacks made me focus more and gave me more drive to succeed. This industry is no different. I can't control the markets or the economy. What I can do is continue to learn and grow and give the best advice to my client base to ensure their goals are attained. The less time you sit around thinking about how slow or bad everything is and the more you focus on how great things can be, the better. You must be very proactive in this industry. You've got to go out and make things happen; you can't sit back. The last couple of years have not been good ones, but I personally have seen tremendous growth in my client base because I wasn't sitting back crying the blues. I was actively going out and stealing business from other advisors who were afraid to call their clients. There's always opportunity out there. As long as you're alive and breathing and keep a positive attitude, the world is your oyster."
12. Don't take no for an answer.
Ron Walchack (Advest, Pittsburgh, PA) was a linebacker for the Penn State Nittany Lions in 1979. When we interviewed him, he had been a financial advisor for 20 years.
"Football taught me that, to win, you've got to be able to put your head down and get in there. Once, it was fourth and one against Pitt, and a second-round draft pick came around the end. It was just he and I, and he's much bigger than I am. I put my head down, and we hit heads—and he came up short. I won that battle, and I think of that very often in this business. I knew I had a harder head than he did. Don't take no for an answer."
13. Keep the faith and get the job done—in spite of what's going on around you.
Undra Johnson, Prudential Securities, Bridgeport, WV

Photo: West Virginia University Sports Communications
Running back Undra Johnson was drafted by the Atlanta Falcons in 1989 and subsequently played for Dallas and New Orleans. He became a financial advisor in 1994.
"I hurt my shoulder in 1991 and had to have major surgery. They told me I'd never come back, so I knew I had to work that much harder to come back and play again. The same is true in this business. The market has been so bad the last two years, and you can easily get down and give up. We have to work hard every single day in this business, and we have to take care of our clients. No matter what's going on, you've got to keep faith in God and get it done. When I was injured, I prayed all the time, and eventually things got better for me. When clients call me now and say they're losing money, I assure them to hang in there, because things will get better."
14. Get beyond your disappointments.
Marty Lyons, Landtek Inc., Amityville, NY

Photo: New York Jets
One of the NFL's top 10 career sack leaders, Marty Lyons played defensive tackle with the New York Jets for 12 years. He spent five years as a financial advisor at PaineWebber before becoming director of marketing and sales for a company that installs natural and synthetic athletic fields.
"You have to keep a positive attitude, no matter what. If you do a presentation and don't get the client, you can't take it personally. You have to knock on another door. If you get discouraged because you were defeated on Monday, you'll get defeated on Tuesday too. There will always be people on both sides of the fence—those who think you'll fail and those who are behind you. I had my right shoulder reconstructed in January of 1987, and my left in March. When I came back to play the 1987 season, I had my worst season ever. The critics were all saying, 'You're done, it's time to retire.' You can either accept that, or you can look deep inside and decide that you really want it. I got back in the gym and had a successful season in 1988. You can always use the people saying you can't do it as a positive. If you accept a defeat, you'll be telling those people they were right. I've never been that type. People saying I can't do it only makes me more determined."
Note: More than 30 years ago, Marty created the Marty Lyons Foundation, which grants wishes for children with life-threatening illnesses. For more information, call 631-543-9474.
15. Be patient, and persevere.
Donald E. Brown, CLU, ChFC, MML Investors Services, Inc., Greensboro, NC

Photo: Donald E. Brown, CLU, ChFC
Don Brown was an assistant coach for seven years for the St. Louis Football Cardinals. He became a registered representative in 1985.
"Patience and perseverance are key, not only with building your business but with the markets. Markets go through cycles, and you've got to have the patience to work through the difficult cycles. It's like coaching; you have ups and downs, and you have to keep an even keel. You can't get too emotionally high when you win or too emotionally low when you lose. In my last game with the Cardinals, we played Washington for the NFC East title. If we won, we would become the champions and get $10,000 each in bonus money and a week off while the wildcard teams played. We were down 21-7 at the half, but we came back and, with two minutes left, went ahead by two. Then we kicked off to the Redskins, and they came down and were able to score. We kicked a field goal at the end with no time left, and it went wide by six inches. We had no wildcard spot, so not only were we out the $10,000, we were out of the playoffs altogether. That's the kind of emotion you go through—and this is good advice for clients too. You have to keep an even keel in good times and bad."
16. Stick with your goals.
John Alt, LPL Financial, Plymouth, MN

Photo: Hank Young, Kansas City Chiefs
John Alt played for 13 years with the Kansas City Chiefs. He was a two-time 1st Team All-NFL lineman, played in two Pro Bowls, and was once named Lineman of the Year. He started his career as a financial advisor in 1998.
"Going into each year, I try to identify the sector where investors should be. About one-quarter of my client base consists of professional athletes, and dealing with athletes and their finances means being conservative, so I'm big on preserving principal. You have to be patient and stay with your goals. If you believe in the stocks and funds you bought, they should come around. I'm very goal-oriented. When I was playing football, I set up a game plan during the week, identified my opponent, broke down his tendencies, and figured out how I would combat them. Now, the market is my opponent. I set goals for my clients—where they want to be in 10, 20, 30 years—and try to establish the vehicles to get them there."
17. Listen to your coach.
John Hannah, First Union Securities, Andover, MA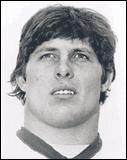 Photo: College Football Hall of Fame in South Bend Indiana
In 1981, Sports Illustrated called New England Patriots guard and Hall-of-Famer John Hannah the best offensive lineman of all time. He was All-Pro for 10 years, played in eight Pro Bowls, and was four-time NFLPA Offensive Lineman of Year. Hannah started working in the financial services industry while still playing in the NFL and became a full-time financial advisor in 1986.
"One thing I knew as a player was that I needed a coach to tell me what I was doing right and wrong. That still holds true; I just returned from a Bill Good seminar. When I had Jim Ringo as a coach, he was always there and could see things as they were going, and when he saw techniques begin to slide, he could point them out immediately. He would always catch a small problem before you developed bad habits. When he left, we got another coach who didn't understand offensive line techniques. I'd look at myself in the film, but I couldn't see the little things. They turned into big things before I could see them, and big problems take a lot longer to correct. After Jim left, my performance definitely dropped off. As a coach, you have to understand your players. In my case, I don't need pep talks. I want a coach to give me the tools I need and let me go."
18. If you prepare, success will follow.
Brent Novoselsky, ChFC, GCG Financial, Bannockburn, IL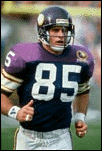 Photo: Rick Kolodziej, Minnesota Vikings
Brent Novoselsky played seven seasons as a tight end with the Chicago Bears and Minnesota Vikings. He graduated from the Wharton School of Business with honors and became a financial planner in 1989.
"I find that if you do all the right things to prepare, business will take care of itself. Once, in a Monday night game on Christmas night in 1989 playing for the Vikings, I caught a touchdown pass over my shoulder in the corner of the end zone to put us in the playoffs. Everyone I knew was watching that game. I had a once-in-a-lifetime moment when I was put on the spot to make a major difference, and luckily it went the right way—but I knew that I would catch that ball because I had done all the right things to prepare. It took care of itself. Success is there for you if you prepare properly."